Thompson Construction Careers
Join our team and help us continue to build upon our success and legacy of quality workmanship
Why Thompson Construction?
Thompson Construction Group is an entrepreneurial company. Our employees own the success of their projects, and simply put, you will not find a more challenging and personally rewarding career anywhere else.
Our employees have a strong sense of family and belonging because they matter and their work matters. We expect your best and we will provide you the tools to achieve and build upon that, including expansive training programs and advancement opportunities that are directly based on your contributions.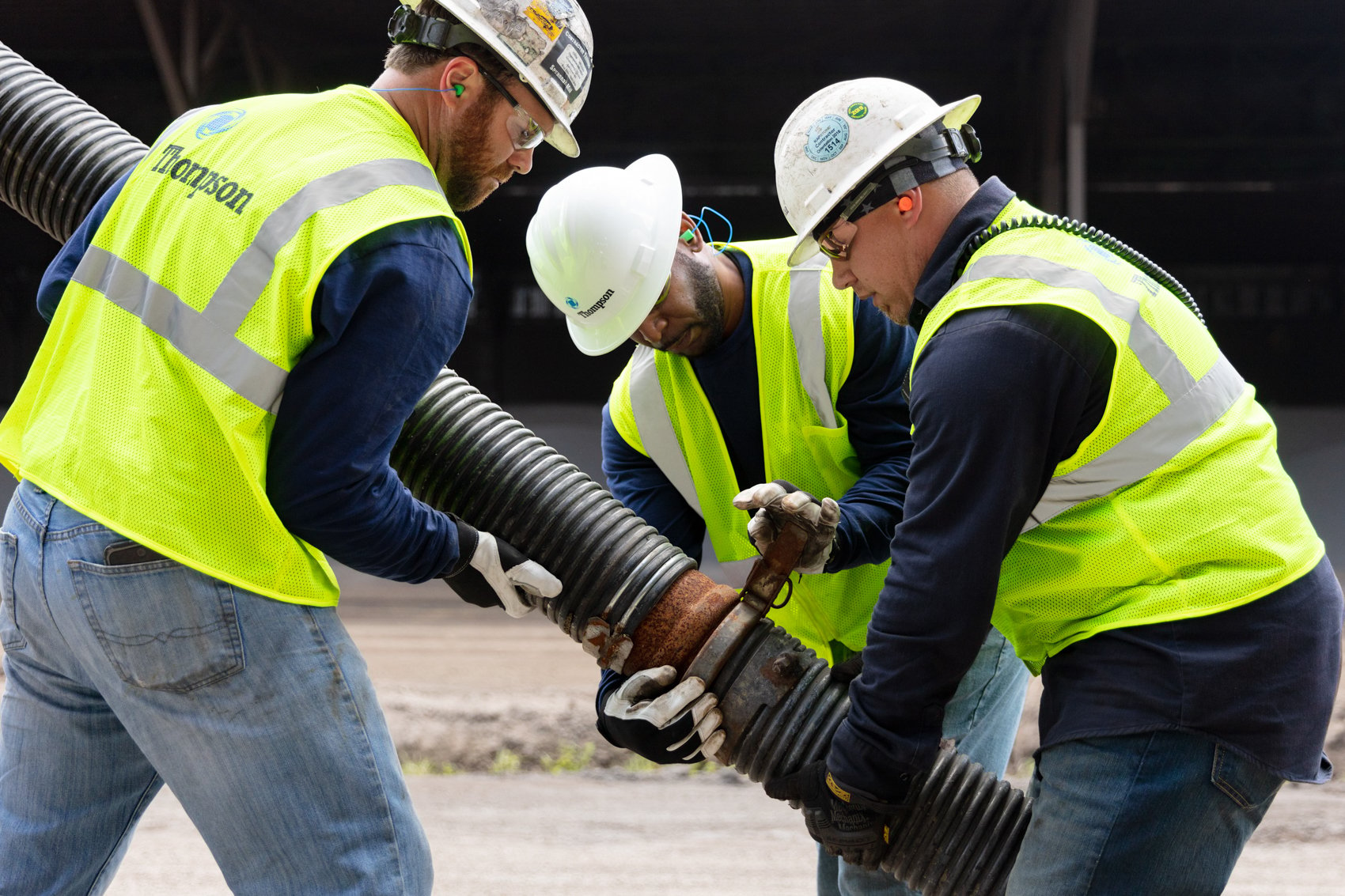 Advanced Training
We are proud of our employees. They are carefully selected individuals who have the professionalism, expertise, and pride to get the job done right — the first time. A Thompson employee begins training on day one. In addition to job-specific education, all new hires attend sessions on general safety and health. All supervisors go through a two-day leadership training which includes in-depth behavioral safety training as well as a follow up 30-hour OSHA course.

As training needs evolve, we meet those needs. On-going training and accountability on every level helps us improve and maintain standards well beyond legal requirements. You will increase your knowledge, sharpen your skills, and gain new experiences — whether on the job, in the classroom, or through online learning.
Early Career & Intern Opportunities
Thompson is the perfect place to start and grow your career. As an emerging professional we will provide you with ample opportunities to gain knowledge and experience. Through our Leadership Development Program (LDP) and many other training opportunities, you will build the skills needed to become a leader at Thompson.
Campus recruiting is a vital way we engage with early career and intern talent. Come visit us on campus or join one of our virtual events to learn more about us and our opportunities.
Our values are what make Thompson an exceptional place to work. As part of our team, you will experience the core values that make us who we are.
Integrity. We do what we say we'll do.
Sustainability. We're focused on a brighter tomorrow.
Leadership. Our people are by far our greatest asset.
Safety. We have a safety first, zero-incident culture.
Technology. We utilize state-of-the-art technology and techniques.
Community Service. We believe deeply in supporting our community.
401(k) retirement savings plan
Critical illness and accident plan
Dental insurance
Education, training & career development
Employee assistance program
Employee referral bonus program
Fitness club reimbursement
Flexible spending account
Health spending account
Life insurance
Medical and prescription drug benefits
Military leave policy
Paid vacation and holiday leave
Scholarships for employee's dependents
Short & long-term disability coverage
Tuition reimbursement
Vision insurance
Wellness programs

*

Benefits may vary based on company or division
Careers for Veterans
As we value your honor, integrity and commitment to your duties as protectors of our country, we encourage all military veterans and active duty personnel to make the transition back into the civilian workforce with a career at Thompson. We believe that veterans transitioning out of the Armed Forces possess the necessary leadership and technical skills to succeed at our company. We offer diverse employment opportunities in many areas and offer excellent compensation and benefits.

We fully support, and are grateful for, the sacrifices made by our veterans and their families.